NITECORE NEW I2 DUAL BATTERY CHARGER
The New i2 battery charger by Nitecore has wide range of compatibility and is capable of charging two
 battery cells
simultaneously.
Upgraded from its previous version, the New i2 comes with five new features:
100% Charging Acceleration | Active current Distribution Technology | IMR Battery Restoration

Expanded Compatibility to Support 3.7V and 4.35V Batteries | Automatic Current Selection Based on Battery Capacity
Compatible with:
Li-ion/IMR/LiFeoPO4:
10340 | 10350 | 10440 | 10500
12340 | 12500 | 12650 | 13450
13500 | 13650 | 14430 | 14500
14650 | 16500 | 16340 | 16650
17500 | 17650 | 17670 | 18350
18490 | 18500 |
18650
| 22500
22650 | 25500 | 26500 | 26650
Flat-topped batteries: 18700 |
20700
|
21700
Ni-MH(NiCd):
AA | AAA | AAAA | C | D
100% Charging Acceleration
the New i2 can charge at up to 1000 mA current in one slot.
Active Current Distribution
The ACD technology allows for a dynamic distribution of the New i2's charging power. If one of the two batteries is fully charged, then the smart technology will apply the fastest speed to the other slot.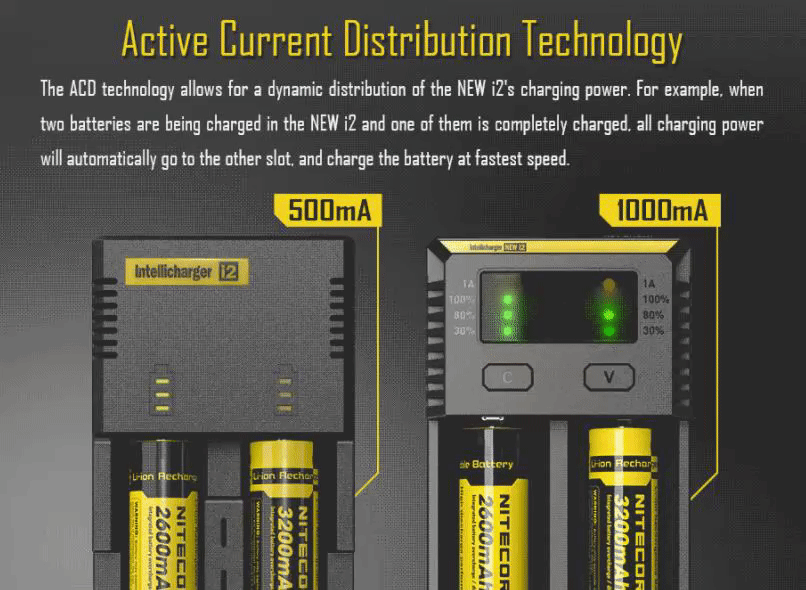 Expanded Compatibility
The New i2 is compatible with 1.2V, 3.7V, 4.2V and 4.35V batteries. Using the "V" button, you can easily set the charging voltage in each slot, independently.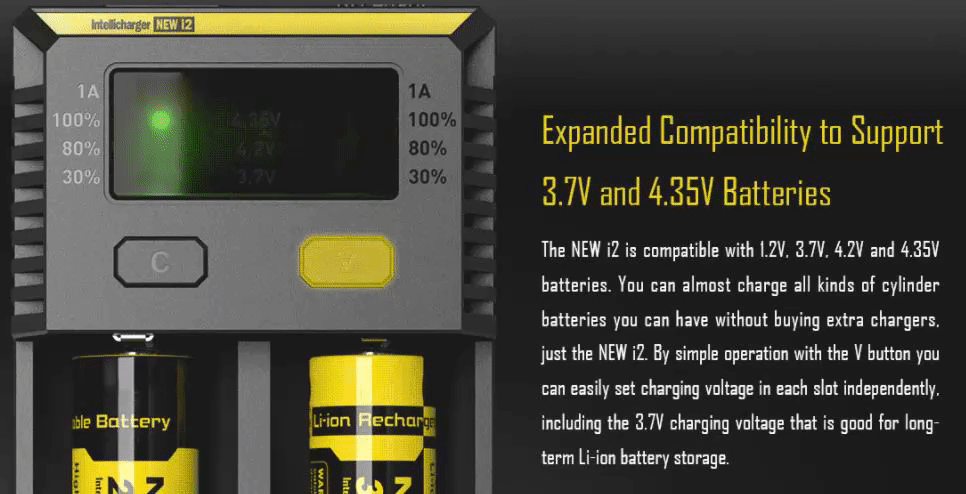 IMR Battery Restoration
By pressing and holding both the "C" and the "V" button, you can enable IMR battery restoration to restore a 0V depleted IMR battery.

Fast Charging and Current Distribution
For larger capacity batteries like 18650 and 26650 LI-ion batteries, press and hold the "C" button to activate 1000 mA fast charging. The New i2 can intelligently select the most appropriate charging current based on automatic battery capacity detection.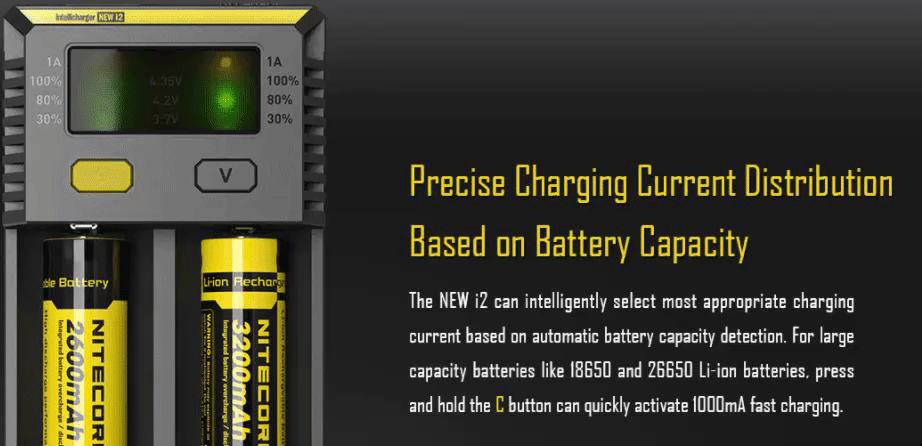 IMR Battery Charging Optimisation
With extremely low internal resistance, IMR batteries may be overcharged and lead to safety issues. The New i2 incorporates an optimised IMR charging system that is able to monitor the entire charging process, ensuring the end voltage is always within safe limits.
Reverse Polarity Protection
When a battery is installed with the polarity reversed, the New i2 will immediately terminate charging and the user will be notified with four flashing LEDs.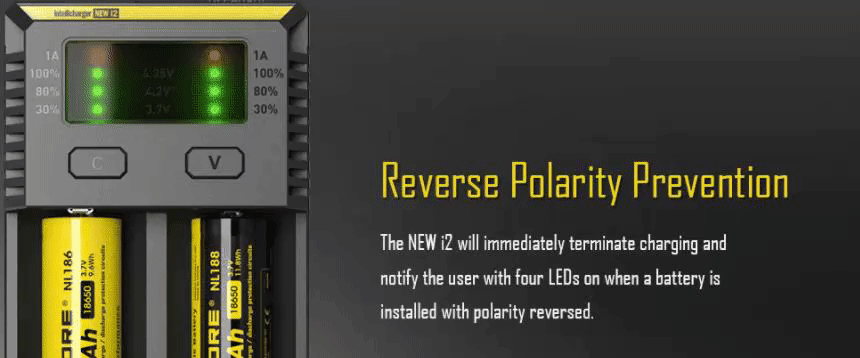 Precise Overtime Charging Protection
Each slot has its own independent calculations. When the overall charging time exceeds 20 hours, the New i2 will automatically stop charging and display a fully charged status.
Reliable, Top Quality Materials
Designed with fire retardant, flame resistant PC materials, with enhanced solidity, extended life cycle and strengthened security.
Wall Adapter and Car Charger
Perfectly compatible with a car charger and a wall adapter, so you're good to charge at home and on the go!
Specifications
Weight: 126 grams | Dimensions: 132mm x 70mm x 35mm
Output current: (500 mA x 2) or (1000 mA x 1)
Input voltage: AC 100~240V 50/60Hz 0.25A(max) 8W DC 9~12V.