VOOPOO DRAG X PRO KIT
Tank is 2 ml capacity, as per TPD regulations.
Requires either 1 x 18650 or 21700 battery - Not Included
Product Features and Highlights
The VooPoo Drag X Pro kit comes with the new TPP X pod, which is compatible with all PnP and TPP coils, making it an excellent choice for both mouth to lung vapers and direct to lung vapers,  The 5-100 watt adjustable power, auto and manual modes, and boost mode of 8.5 volts allow for an even more tailored experience; suiting beginners and more advanced vapers.
Choice of Seven Colours
California Orange
Classic Black
Garda Blue
Mystic Red
Sahara Brown
Sapphire Blue
Gobi Grey
High-Quality Design
The subtleties show the quality of the Drag X Pro. From the appearance to the structure; the atomiser to the one-button switch; all the details are changed to achieve the new Drag X Pro.
The TPP X Pod
The newly designed TPP X Pod is adapted to the most powerful coil of the TPP platform, bringing you a powerful and professional experience.
Easy E-Juice Filling
Press the semi-hidden button and rotate to the left.
Pull out the silicone plug for filling.
Close the silicone plug and rotate to the right to finish.
The Innovation of a 360° Infinite Airflow System
The combination of a 360° infinite airflow system and bottom airflow brings more precise airflow control and denser clouds. Having the airflow holes specially designed for a rich and smooth MTL experience.
The One, The Victory
A toggle switch to turn the device on and off is a new addition to the VooPoo Drag series. The Drag X Pro also retains the traditional function of pressing the fire key five times turns the device on and off.
Auto and Manual Modes
The Drag X Pro can be fired on both manual and auto mode.
GENE.FAN 3.0 Chip
The newly designed GENE.FAN 3.0 chip is built into the Drag X Pro, bringing a 20% increase in performance, more cloud and more flavour.
Smart Mode — RBA Mode — TC Mode
With the support of the easy-to-use SMART mode, the power-free RBA mode and TC mode, you can enjoy the Drag X Pro whatever way you want to.
Enjoy All Day Long
You can use either a single 21700 or 18650 battery cells with the Drag X Pro kit, and fast charge it with the type-c 5V / 2.5A fast charging port.
One Price, Double Flavours
Coming equipped with two TPP coils, one being 0.15 ohms and the other 0.2 ohms.
Compatible with All TPP and PnP Coils
Please note: The PnP pod is required when using PnP coils.
TPP-DM1
DL
Resistance: 0.15 ohms
Power Range: 60 — 80W
Recommended E-liquid: Nicotine ≤ 10 mg

TPP-DM2
DL
Resistance: 0.2 ohms
Power Range: 40 — 60W
Recommended E-liquid: Nicotine ≤ 10 mg

TPP-DM3
DL
Resistance: 0.15 ohms
Power Range: 80 — 100W
Recommended E-liquid: Nicotine ≤ 10 mg

TPP-DM4
Half DL
Resistance: 0.3 ohms
Power Range: 32 — 40W
Recommended E-liquid: Nicotine ≤ 10 mg
PnP-VM5
DL
Resistance: 0.2 ohms
Range: 40 — 60W
Type: Mesh Coil
Suggested E-liquid: Nicotine ≤ 10 mg
Applicable Products: DRAG S / DRAG X
PnP-VM6
DL
Resistance: 0.15 ohms
Range: 60 — 80W
Type: Mesh Coil
Suggested E-liquid: Nicotine ≤ 10 mg
Applicable Products: DRAG X

PnP-VM1
DL
Resistance: 0.3 ohms
Range: 32 — 40W
Type: Single Mesh
Suggested E-liquid: Nicotine ≤ 10 mg
Applicable Products:
VINCI / VINCI R / VINCI X / DRAG S / DRAG X / NAVI / PnP 22
PnP-VM4
Half-DL
Resistance: 0.6 ohms
Range: 20 — 28W
Type: Single Mesh
Suggested E-liquid:
Nicotine ≤ 20 mg
Applicable Products:
VINCI / VINCI R / VINCI X / VINCI AIR / DRAG S / DRAG X / NAVI / PnP 22 & 20

PnP-VM3
Half-DL
Resistance: 0.45 ohms
Range: 25 — 35W
Type: Single Mesh
Suggested E-liquid:
Nicotine ≤ 20 mg
Applicable Products:
VINCI / VINCI R / VINCI X / VINCI AIR / DRAG S / DRAG X / NAVI / PnP 22 & 20
PnP-R1
MTL
Resistance: 0.8 ohms
Range: 12 — 18W
Type: Regular Coils
Suggested E-liquid:
Nicotine ≤ 20 mg
Applicable Products: DRAG Baby / FIND Trio / VINCI / VINCI R / VINCI X / VINCI AIR / DRAG S / DRAG X / NAVI / PnP 22 & 20
PnP-R2
MTL
Resistance: 1 ohms
Range: 10 — 15W
Type: Regular Coils
Suggested E-liquid:
Nicotine ≤ 20 mg
Applicable Products:
DRAG Baby / FIND Trio / VINCI / VINCI R / VINCI X / VINCI AIR / DRAG S / DRAG X / NAVI / PnP 22 & 20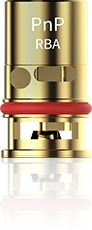 PnP-RBA
MTL/Half-DL
Resistance: DIY
Type: DIY
Applicable Products:
VINCI / VINCI R / VINCI X / VINCI AIR / DRAG S / DRAG X / NAVI
PnP-M2
Half-DL
Resistance: 0.6 ohms
Range: 20-28W
Type: Single Mesh
Suggested E-liquid:
Nicotine ≤ 10 mg
Applicable Products:
DRAG Baby / FIND Trio / VINCI / VINCI R / VINCI X / DRAG S / DRAG X / NAVI / PnP 22 & 20
Specifications
Pod Parameters

Capacity:
2 ml
Material:
PCTG
Resistance:
0.15 ohms (TPP-DM3)
0.2 ohms (TPP-DM2)
Mod Parameters

Name:
Drag X Pro
Material:
Zinc alloy + leather
Output power:
5 – 100 watts
Output voltage:
0 – 8.5 volts
Resistance:
0.1 – 3.0 ohms
Battery capacity:
Single 21700 or 18650
external battery cell
Eight Safety Protections
The Drag X Pro features the following safety protections:
Overtime protection
Short-circuit protection
Overcharge protection
Output over-current protection
Over discharge protection
Over-temperature protection
Max power protection
Battery reverse protection
Package List
1 x Drag X Pro Device
1 x TPP X Pod
1 x TPP-DM3 — 0.15 ohms
1 x TPP-DM2 — 0.2 ohms
1 x Type-C cable
1 x User manual